What's Your Favorite Weather App (Video)
So you want to know how to get more weather info out of your iPhone than it's simple yet weak built in weather application? Well you've come by this blog at the right time because today we're going to talk about my two favorite weather app besides the built in one. Those are the Weather Channel app and one called The Weather, one has a free version and one is just $0.99. Read on to find out more…
We'll start with the Weather Channel app. This was the first one I got outside of the built in one. There isn't anything wrong with the built in one. It provides a quick outlook on the next five days, and you can easily swipe from one city to the next if you dare to do so. It's just that I want a radar and more info about the weather. The Weather Channel app was the first good one I found and it was free! It easily gives you the current weather conditions when your first open the app. It gives you the temp, what it really feels like, wind, humidity, dew point, sunrise and sunset, and much more. That's just the first tab too, on the second tab you can check out the weather hourly so you know how to prepare yourself for the day. For instance if it's supposed to rain when I'm getting out of class, I'll bring an umbrella! Common sense stuff, but the Weather Channel app makes it much easier to get the info when and how I want it. I no longer have to turn on the TV and catch weather on the 8's like they do.
The next tab has a 36 hour weather forecast on it. Has the low and hi plus wind and more. Good to plan for a weekend or something that last about 2-3 days! It's final last tab is a 10 day forecast. I use this to look ahead for a glimpse of warm weather coming, or a good thunder storm! The app isn't done there, below the four main tabs is a place to explore the doppler radar. The app overlays radar on Google maps and you can put in any location you want to check out the radar there. From there there are two more tabs that I don't really use. Those are video, which has a weather channel video for the day. Then the last one is for severe weather. All in all a good app, still my current raining champion (no pun intended)
The second app I've recently been trying out is called The Weather. it's interface is much more my style. Here is a pic for proof…
As you can see it has a grid layout of the current weather in the top 3/4. In the bottom it will tell you the current days forecast. So you can see for today it's going to be 72! Hallelujah! Good thing I'll be inside all day working my tail off.
If you go under the radar tab that will obviously show you the radar. It's in the same fashion as The Weather Channel's radar. It also adds in the ability to see cameras that people put outside. You can just tap on one to see what it sees currently. I like to do that from time to time. Something the Weather Channel doesn't offer. It's last tab is a 5 day forecast it also includes the current days. 6 forecast in total but 5 into the future. If you tap on one of the days it will show you more information. It's very clean and easy to use.
The Weather app is really starting to grow on me, I have to decide eventually because I don't want two weather apps hogging screen real estate. So check out the video below of both of them in action and see what you think. Tell me about your favorite weather app while you are at it. Thanks for reading!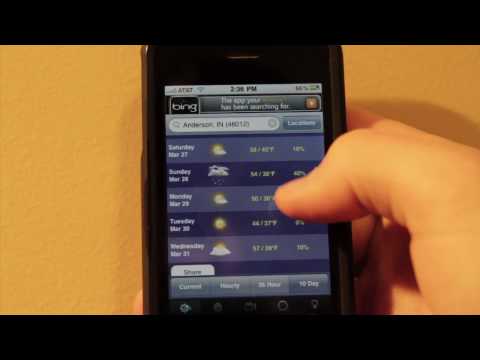 Popularity: 14% [?]
Ranked #9 out of 263 posts (with 5.61 points) ?
Related Articles: