The iPhone 3G; For Better & For Worse.
Hello there, my name is Ryan…
Before I say anything else I must confess, it's true I am indeed an iPhone Nut. I know a lot of you out there are too, it's just that I'm the first to admit it. It's a problem, a condition, rapidly sweeping the nation as we speak. Doctor's don't even know what to do with people like us yet. My doctor hasn't even heard of the iPhone. People are still lined up, salivating for the iPhone 3G. Lucky me, I was the first out of the store with my iPhone 3G. They were having activation issues so they let me go problem free. I ran to my car looking behind me every step of the way just to make sure the wild crowd of people weren't chasing me down to get a glimpse at my iPhone. Once safely locked inside my own car did I finally breathe a sigh of relief. I sped out of there as I still had a 45 minute drive home, who know's what could happen between the AT&T store and my new iPhone's home.
I pulled up to my house and checked my surroundings. Nobody was insight, I'm guessing because it was barely 9:00 a.m. People were already at work or still in line for the iPhone 3G. It didn't help that AT&T gives you a horribly bright orange and blue bag to carry your iPhone in. It screams "Come mug me, I've got a free iPhone 3G in here for you." I scrambled out of the car and into my house, I was so excited as I fumbled around with the USB cord and my new, shiny, wonderful iPhone 3G. I plug it in and calm my nerves only to be served with this…
I did get through right as the iTunes servers were melting. Luckily I didn't get the errors that others were having. They couldn't even get this far into the activations process. It was so anti-climactic, I had the new iPhone 3G. My hearts desires had been fulfilled, but I couldn't use my phone yet. About 45 minutes later my iPhone was activated, I could finally use it to make calls and receive them. Of course though since iTunes servers were down I couldn't sync my phone. Being that I had had an original iPhone, somewhere beneath the surface of iTunes I had a backup hiding from me. All of my contacts, all four of my ringtones, email account settings, etc… everything was locked away from me as I waited for iTunes to recover from it's big KO. To everyones delight iTunes came back alive around 2:30, atleast for me as I am in central time. A lengthy sync later and I was golden. I could hardly contain the joy of having my iPhone back. I had all of my information back in my pocket, my iPod was filled, and my apps that I downloaded early were there ready for my tapping to commence.
One funny thing about my experience at this AT&T store was that at the checkout, the employee didn't let me "bond" with my iPhone once they took it out of the box. If you remember this document that was sent to AT&T's employees then you will know what I'm talking about.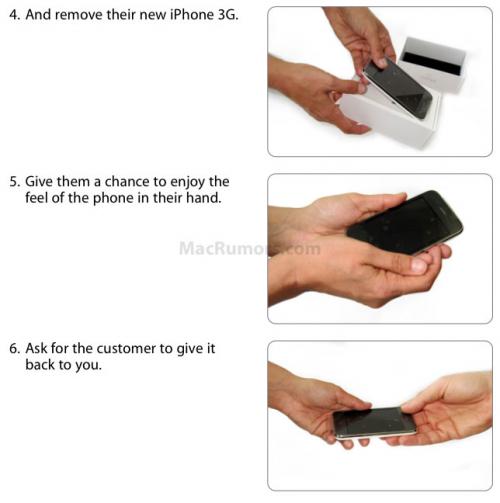 I was expecting this, but didn't get the treatment. Which was alright by me, I wanted to hurry and get home to get my phone synced up and ready to go. So that's it, that's my story on buying the iPhone 3G. I'd like to extend a warm welcome to everyone to this awesome, new site iPhonenuts.com. I'm sure everyone is tired of the same, dull, dare I say boring iPhone news so we're trying to inject the fun and passion back into the iPhone world. If you like what you see so far subscribe to our feed and come back often. If you own an iPhone or want one really bad let me know what you think in the comments. My first week with the iPhone 3G is coming soon. Talk to you all soon!
Popularity: 4% [?]
Ranked #72 out of 262 posts (with 18.18 points) ?
Related Articles: